Manitobans woke up this morning to news of an historic victory for the province's New Democratic Party (NDP) and a crushing defeat for the incumbent Progressive Conservative (PC) government.
Premier-designate Wab Kinew, who will become the first First Nations premier in Canadian history, has been the subject of personal attacks regarding his past from the PCs for months. He spoke publicly about his past for the first time in the campaign during his victory address late last night:
"My life became immeasurably better when I stopped making excuses and I started looking for a reason. And I found that reason in our family, I found that reason in our community and I found that reason in our province and country."
He called out Indigenous youth or "young neechies" directly and picked up on a message he has consistently spoken to throughout the campaign, when he said from his own experience with a smile, "So young people out there who want to change your life for the better: you can do it."
The NDP also bested Liberal leader Douglas Lamont who lost his seat and resigned as leader early in the evening as voting results were still being reported. While Heather Stefanson retained her seat, her party's loss resulted in her resignation as PC leader as well.
Along with the resignation of the two party leaders, the NDP victory also resulted in the defeat of several former PC cabinet ministers including Audrey Gordon (Health), Kevin Klein (Environment), Rochelle Squires (Families), Janice Morley- Lecomte (Mental Health and Community Wellness) and James Teitsma (Consumer Protection and Government Services).
While a record number of Manitobans voted in the advance polls, the overall voter turnout nearly matched its lowest point in Manitoba's recorded history – in 1941, only 50.5% of those eligible voted. In this election, a mere 54% of eligible voters chose to cast a ballot.
Early analysis of the still-unofficial results suggests that the NDP victory resulted from a confluence of factors, including:
Wab Kinew and the NDP achieved their objective of driving former Liberal voters into the NDP camp
The fear-mongering campaign by the PCs led Manitobans to either vote against Heather Stefanson or to stay home
The NDP victory is already being referred to in the media as an "orange crush",  a reference to the federal NDP victory in the 2011 national election. Interestingly, Wab Kinew had turned to Brian Topp, one of the architects of that historic federal result and former chief of staff to Rachel Notley during her time as Alberta Premier, to run their provincial campaign.
This morning, the NDP campaign leadership team will shift its attention to the transition to government, with many appointment decisions needed for Cabinet and senior staffing positions. Prairie Sky will continue to provide timely updates as the new Manitoba Government takes power in the weeks to come.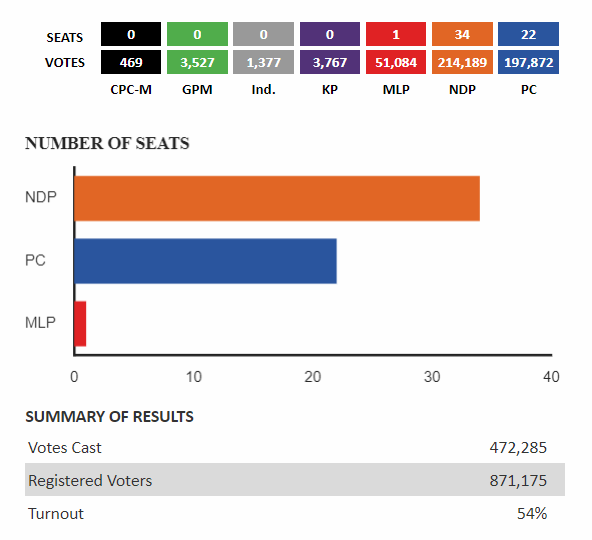 Related Links:
We're Here to Help
For information and insights about what these developments mean for Manitoba's political landscape, please contact:
Tara Bingham – Senior Strategy Advisor
tara@prairieskystrategy.ca
204.390.7760
To learn more about Prairie Sky Strategy, please visit our website.